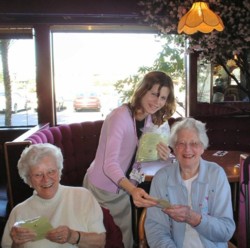 The Northern California Community Blood Bank is very fortunate to have dedicated volunteers. They are invaluable in making our donors feel welcome and comfortable during their visits.
On the outside, these generous volunteers also are the representatives of the blood bank who remind people how important donating blood is to the community. Many of our volunteers are regular donors and know from first hand experience how important donating blood is.
We now have two kinds of volunteers: Canteen volunteers; and Mobile Blood Drive Volunteers. The shifts are usually two to three hours Monday through Friday.
Our Volunteers go through training in Donor Reactions, HIPAA Confidentiality, Blood Borne Pathogens, Customer Services, and Hazard Communications. All of our volunteers are required to sign a Confidentiality and Non-Disclosure Agreement. This form is to protect our donors and their information.
Currently we are looking for both Canteen Volunteers and Mobile Blood Drive Volunteers. If you are interested in joining our team, please contact us at: 707-443-8004. Ask for Lisa Powers (Volunteer Coordinator)